My sweet lolita obsession is back ~
It's funny, for a long time lolita was pretty much out of my life, but this past month i've been drooling over Angelic Pretty. I've always loved their stuff, and checked their site often, but right now it's extreme.
Also, i really wanna do decora-lolita at j-popcon 08.
Someone at DanishLolitas has this dress for sale.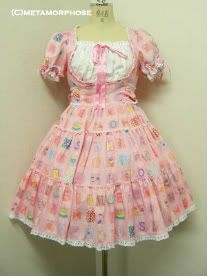 It's only 500kr, so i think i'm gona buy it. Normally i don't like OPs that much, but this one is pretty. Though, i'm not sure i'll fit into it D: